Overview
Firetip is a high-speed, trader-intuitive trading platform.  It is a  gateway to open-access electronic markets with coverage of more than 500,000 instruments at any point in time. Its connectivity lets you capture opportunities across the spectrum of markets, and its stability lets you focus on your core business.
The Exchanges Coverage includes: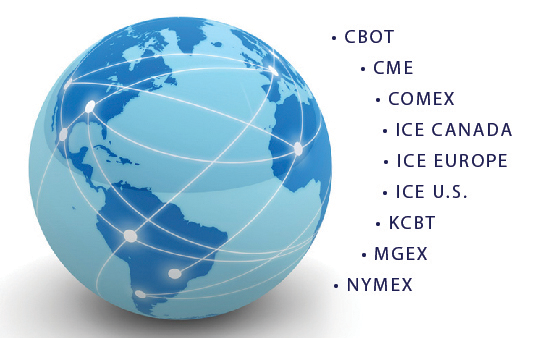 Native Connectivity
Seamless from point-to-point
The Firetip's technology is built from the ground up by to operate natively to the exchanges using the Firetip's proprietary technology. This seamless integration from the screen to the order execution ensures the highest level of reliability.
Manage Your Trades from Anywhere
Trade via the flagship desktop application
Trade via the flagship desktop application, the web, mobile app, or by API. Set up your trades and monitor and manage them on the go or from anywhere around the globe.  Choose virtually any device to manage and execute your trading ideas (Windows, Mac, iOS, Android, etc.)
Market Data You Need
The Firetip Distributes Unfiltered Tick Data
The Firetip distributes unfiltered tick data. Our proprietary data market data dissemination algorithm allows remote users to subscribe to hundreds or thousands of instruments without bogging down a standard internet connection or PC.  We do not filter tick data -- you receive the trades as they occur unfiltered.
Risk Management
The Firetip's Administrative functionality offers the most sophisticated and cost-effective risk management tools in the industry. This functionality provides a simple and straightforward risk module to protect futures trading by automatically adjusting risk controls.
Instant Pre-Trade Risk Management
Pre-trade risk The Firetip's pre-trade risk module will determine if a trade is suitable for execution by doing a full worst-case risk analysis on the account. This is done instantly and without execution delay. You can have full risk controls in place without impacting the customer's trading needs or experience.  Firetip's proprietary risk algorithm can do a full worse-case analysis in near instant (a fraction of one millionth of a second) time.  
Entitlements
Control Entitlements. Provide access to clients, users, and administrators at a granular level. Customers can access and administer multiple accounts (such as trading advisors, brokers, or clients will multiple account relationships). Entitlements can be set one time and as the  customer base and organization grow the entitlements automatically propagate.
Features
Real-time balances and margin requirements
View Positions and Orders
User and Admin Access
Adjust entitlements real-time
Send message notifications
Assign multiple accounts to a user